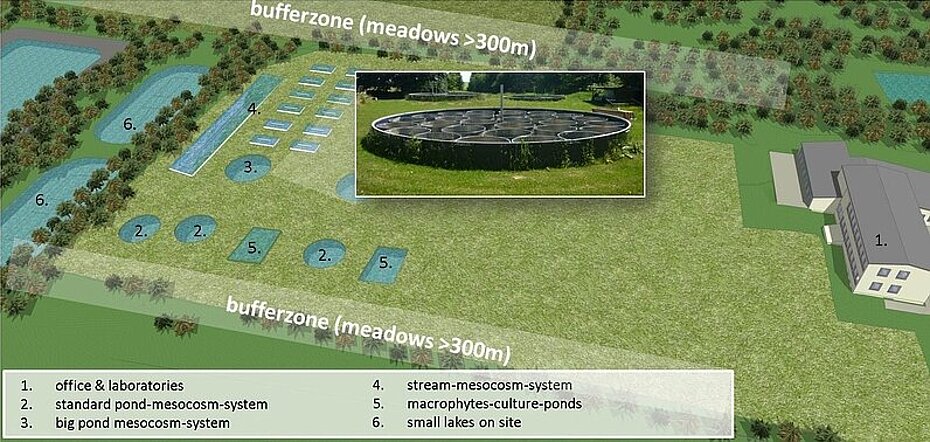 Aquatic Outdoor Test Facility
We provide 5 lentic mesocosm systems (ponds) with a capacity of up to 120 mesocosms and 1 lotic mesocosm system (streams) with 19 mesocosms.
The advantages of our test facility:
A high diversity and sound abundances of a broad range of aquatic species.
The facility is surrounded by a buffer zone of meadows – no contamination by agriculture pratice.
The source of sediment and water (naturalized ponds) of the mesocosms is located at the test facility – best conditions for recolonisation.
Our laboratory infrastructure features modern technique like delayed fluorescence spectroscopy (algae analysis), climate chambers and equipment for microbiological work.
We focus on modified and flexible experimental set-ups for new or special questions. Non-standard studies with different test organisms are our most frequent indoor applications.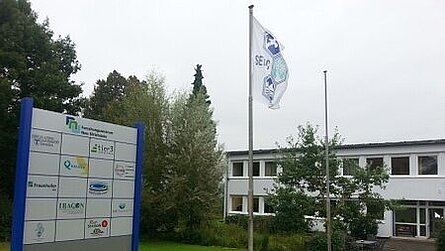 Research Centre Neu-Ulrichstein
The Mesocosm GmbH is located at the Research Centre Neu-Ulrichstein, a platform for several contract laboratories and institutions in the field of ecotoxicology and environmental sciences.

The Mesocosm GmbH is partner of the Biodiversity and Climate Research Centre BiK-F.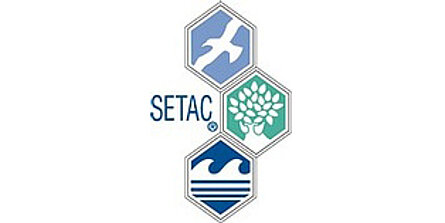 The Mesocosm GmbH runs the head office of Setac GLB (Society of Environmental Toxicology and Chemistry - German Language Branch).
We conduct our studies in compliance with GLP (Good Laboratory Practice).
Area of Expertise:
Category 4: Environmental toxicity studies on a quatic and terrestrial organisms
Category 7: Studies on effects on mesocosms and natural ecosystems
Category 9: Other studies (metabolism/residue analysis)